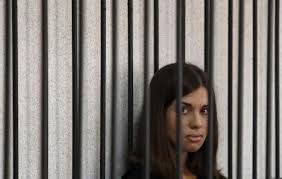 600.000 Russians work like slaves in prison camps – former oligarch Michael Khodorkovsky and "Pussy Riot" activist Nadeshda Tolokonnikova among them. profil collected witness accounts of prisoners to document the conditions in penal colonies which are reminiscent of Stalin. 
Ten years ago, on October 25th 2003, special commandos stormed the private jet of Russia's then-richest man Mikhail Khodorkovsky and arrested him at gunpoint. A few months ago, the former oligarch celebrated his 50th birthday in his cell in prison colony Number 7 in Karelia on the Finnish border. One of Russia's most capable managers has been turned into a slave labourer who produces plastic binders.
The conditions in Russia's prisons are devastating – the West's attention was only recently drawn to it, when Nadezhda Tolokonnikova, a member of the feminist punk group "Pussy Riot", published an open letter about her daily life in prison on the popular Russian news website "Lenta.ru".
"They feed us rotten bread", the 23-year-old political activist wrote. She was sentenced to two years in the prison camp in August 2012 for singing an anti-Putin punk prayer in Moscow's main cathedral.
Around 700,000 people sit in Putin's prisons. Almost 600,000 of them in penal colonies, some of which date from Stalin's times. The paranoid Soviet dictator had built a network of prison camps, where inmates were supposed to contribute to building the Soviet Union with their labour. Dissident Alexander Solzhenitsyn made these camps notorious across the world through his book "The Gulag Archipelago" in 1973. He received the Nobel Prize for Literature for it. It is dedicated to "all who did not have enough life to tell their story".
The distance from Stalin's gulag to Putin's prison camps is shorter than one might think. The current president is not the first Russian leader who cracks down hard on peaceful resistance. The country has a long tradition of the gulag. Those who fought with their minds against the regime were considered particularly dangerous criminals. The Tsars sent these intellectuals to Siberia. Fyodor Dostoyevsky, today one of Russia's most admired authors, spent four years there, his wrists and ankles in chains.
After the collapse of the Soviet Union, the prisons did not stay empty. Putin filled them quickly again – one reason being that he tried to crack down on economic crime, much of which was the result of capitalist excesses in the Nineties. Real criminals but also victims of corrupt competitors spent years behind bars. Finally in July 2013 the Russian Duma (parliament) passed an amnesty law. Economic criminals will be released if they repay the damage caused and apologise. On a small scale the regime shows interest in reforms. But there is not enough energy to tackle the corrupt and huge bureaucracy and reform the entire prison system.
Not only the Gulag but also the resistance against it has a long tradition in Russia. Former prisoners and human rights campaigners have created groups all over Russia to fight against injustice in prison.  Not completely without success. Alexei Sokolov for example founded "Defender of the Urals" to protest against the deplorable conditions behind the barbed wire.
Nadezhda Tolokonnikova also plans to create a NGO for prisoner rights called "Mordovlag" – an abbreviation of "Mordovia Camps" in Russian. Many have warned her not to provoke her guards by rebelling against them. She and her colleague Maria Alyokhina are supposed to be released on March 2nd. But Tolokonnikova, the mother of a small daughter, went on hunger strike for nine days at the end of September to draw attention to the injustice in her camp. At the end President Putin sent a delegation from his human rights commission to camp 14 in Mordovia to check her allegations. The government also announced that inmates would receive a slightly higher salary.
These are small victories. It is not easy to change the unwritten laws. Most prisoners refused to speak to Putin's human rights delegation. Some motioned silently with their eyes towards the walls: no conversation stays secret in prison and one critical word can provoke the fury of the guards.
"Profil" researched the conditions in penal camps in Siberia, Karelia and the Urals and put together these witness accounts from the prisoners of Putin's gulag:
Witness 1:
"Licence to kill"
Alexei Sokolov, 40, is a founder of the NGO "Legal Basis". He also sits on the "Public Monitoring Committee" in Sverdlovsk and fights there for the rights of prisoners. After he refused to stop his work, he was arrested and brought to prison on fabricated charges. After being released, he created "Defenders of the Urals":
The first time I was arrested was in 1993 for stealing sports uniforms. The accusation was false, I was not stealing clothes, I produced them. They beat me for ten days to make me sign a confession. I refused. The judge did not mind, he still sentenced me to seven years penal colony in Khabarovsk. There I quickly realized that the guards could do what they wanted with us. The prisoners could be beaten, tortured, starved, even killed – no one had to fear the consequences. I started to help prisoners to fight for their rights. I went to the higher level, to the superiors. The only result was that I was put in solitary confinement.
In 2000 I was released. I got a job, started a family and continued to fight for the rights of prisoners. I became a member of the "Public Monitoring Committee", which was based on a law from 2008, which allows civil rights activists to visit prisons. After every visit, I wrote a report about the appalling conditions. The officials from GUFSIN, the prison authority, were not amused. They "invited" me to a conversation. They threatened to arrest me if I did not cooperate. I refused. So they arrested me.
The accusations were absurd: prisoners suddenly remembered, that I had committed crimes with them eight years earlier. Russian and international human rights organisations protested against my trial. My guards said they could not finish me off because of the high profile of my case, but they would "break me mentally": They put me away for three years in a closed institution for alcoholics and drug addicts in Krasnoyarsk.
The work there was hard. We had two greenhouses for cucumbers and tomatoes, as well as  pigs and cattle. Three of us got 500 roubles per month, the others worked for free. There were no export lists. In our dining room we never saw vegetables.
I became sick and was diagnosed with tubercolosis. They released me. Nothing will change as long as the prisoners know that it makes no sense to complain to the authorities, because the top officials conspire with the guards. Prisoners will be abused like slaves. We need to fight for change.
Witness 2:
"Camp chiefs live off the drug trade or extortion"
Mikhail Khodorkovsky, 50, was arrested in 2003 and got eight years penal camp for embezzlement at his first trial. At a second trial in 2010 he was convicted of stealing his own oil and sentenced to a six further years. In 2012, his sentence was shortened by two years, so theoretically he could be released in August 2014. But there are rumours of a third trial being prepared with an accusation of murder, which would keep him in prison. For the moment, he is in Penal Colony Number 7 in Karelia on the Finnish border.
"Lawlessness in the Russian regions can be separated into "red" and "black" prisons. The leadership of "black" colonies usually lived off drug dealing. The "red" camp chiefs profited simply from extortion. In both, the prison administration and the gangsters followed their own self-interest.
Lately, the "red" and "black" penal colonies are not so easy to distinguish. The "black" colonies were run by criminals, the "red" by the prison administration. Nowadays they have mixed. There is less physical violence, but more paper war and selective implementation of regulations.
(Excerpt from the latest episode of Khodorkovsky's series "Prison people" in the Moscow opposition magazine "The New Times")
Witness 3:
"My friend committed suicide"
Natalya Tarakina, 37, currently sits in Prison Colony Number 14 in the village of Partsa Subovo in Poyansky District in Mordovia – Nadezhda Tolonnikova's prison. She is supposed to be released on November 12. She was almost the only person who was willing to speak to human rights activists sent to her prison after Tolonnikova's hunger strike.
It is completely normal that we have to work four or five hours longer than planned every day. The younger seamstresses are especially vulnerable. They get beaten when they don't work fast enough. There are other humiliations too. The seamstresses get tortured by other inmates.
I myself got beaten up a lot. Some of the directors of the prisons, one for example named Ryshov, are especially brutal. When I complained I was put in solitary confinement. Not everyone can stand these conditions. My friend Tatyana Chapurina for example committed suicide in May 2012. Her friend Alfia Suhova, too.
(Testimony to the Presidential Commission for Human Rights.)
Witness 4:
"You are a slave"
Ilya Kotov, 33, was convicted for theft and fraud in Nizhny Novgorod in 2010.
Shortly after my verdict, Russia had parliamentary elections. I refused to vote. So they beat me. Then they forced me to vote for the pro-Putin party "United Russia". The election observers looked the other way.
In my prison camp in the Perm region we started work at 4 am. We always worked twelve to fourteen hours. We got 32 roubles per month (a little more than a dollar). One packet of cigarettes costs 35 roubles. There was no medical provision. When I broke my finger, the officers beat me up. One of them said: "You are a slave. You will work for free." The prison camp was a "red" colony, it was under official control.
Later they transferred me to Prison Colony Number 4 in Nizhny Novgorod – a "black" camp, which was totally commercial. You could get anything for money. When something broke, they only fixed it if relatives paid for it. A mobile phone cost 10,000 roubles (300 dollars). One of the officers was convicted of corruption in 2013; after that it began to be more difficult to organise better conditions.
In the middle of May 2013, I was already in a new camp, I was busy cleaning up the dining hall after lunch, when I suddenly heard a bang and felt a sharp pain in my hand. Someone had just shot me through the window. The nurse said later she could not conduct an operation to take the bullet out. There was also no X- ray machine in the camp. She disinfected the wound and sent me back to the barracks. An official told me it didn't make sense to complain. I should sign a declaration that my hand got caught on a nail. I was afraid for my life, so I signed.
Witness 5:
"Inmates get maimed"
Piotr Kuryanov, 42, was in different prison camps in the region of Sratov. Today he fights in the group "Locked-Up Russia" for the rights of distressed prisoners.
Most of my prison time between 1996 and 2007, I was in solitary confinement. I was in different prisons and prison camps in the region of Saratov. The first time for a youth offence. But because I could not accept the conditions in the prison, I quickly became seen as a troublemaker.
When I had one or two days in a normal cell, it was always the same story: one of the other prisoners told me how they mistreated him. I complained on his behalf to the superiors. I was sent back to solitary confinement.
In the prison camps, it's often not the simple guards who are the problem. Every other one is not so bad. But the higher ranks are often fascists. They beat inmates without hesitation. They hope to leave lasting scars, especially on the arms and belly, as a reminder. Even the "red" colonies, which are under official control, are terrible in the Saratov region. Inmates are being maimed and sometimes even killed.
Witness 6:
"The work bench is full of blood"
Nadezhda Tolokonnikova, 23, was arrested while performing an anti-Putin  punk prayer in a Moscow cathedral in February 2012. She was sentenced to two years in prison and sits in Penal Colony Number 14 in Mordovia.
"My work brigade sews for sixteen to seventeen hours every day. From seven thirty in the morning till after midnight. If we are lucky we get to sleep four hours. Every six weeks we have one free day. A 50-year-old woman once asked to be able to go to bed once a week at 8 pm to sleep for eight hours. She felt sick and she had high blood pressure. The reaction was this: a group meeting was called and the woman was humiliated and vilified as a sponger. "You think you are the only one who wants more sleep? You need to work harder, you cow!"
To keep discipline and obedience, they have developed an unofficial prison system with a wide spectrum of punishments. Inmates are forced to stand outside in the "lokalka", the fenced-off walkways between two camp sections until the lights go off. They cannot go into the barracks, no matter how bad the weather. Autumn or winter – it makes no difference. One of the women standing outside like this got such frostbite they had to amputate her fingers and one of her feet. When they say: "loss of hygienic privileges", that means  inmates are not allowed to wash or go to the toilets. The same can happen with the loss of "shopping or tea privileges" – prisoners are not allowed to buy their own food or drinks.
In June I earned 29 roubles (about 70 cents). My department sews 150 police uniforms a day. Two weeks ago, they raised our workload: we have to produce 50 uniforms more. Just like that. Your hands are riddled with pin holes. The work bench is full of your blood. But you keep working.
(Excerpt from an open letter published on the news website "lenta.ru")
Interview:
"My father got no favours"
Pavel Khodorkovsky, son of ex-oligarch Mikhail Khodorkovsky, on his father's prison conditions:
Profil: Do you expect your father to be released in the coming year? There has been a lot of speculation about a third trial in which the Russian state prosecutor could accuse him of murder.
Pavel Khodorkovsky: I think it is very likely he will be released next August. There is certainly a lot of speculation about another trial. There is only one decision maker, so we cannot know anything until he decides. Putin made sure, with the help of his aide Igor Sechin, to re-nationalise the assets of my father after his arrest and if they were to feel threatened that he wants them back, they might be tempted to keep him behind bars. The risk to these two men in power is clear. But I really think they will release him. There is just no chance that my father could ever unravel the re-nationalisation scheme. His firm Yukos was swallowed by Russian state oil giant Rosneft, Rosneft went through an IPO, Exxon Mobile got involved, stock swaps already happened. The oil company of my father simply does not exist anymore. My father has no intention of getting those assets back.
Profil: Even if your father states this clearly, Putin might want to keep him in prison to silence a political opponent.
Pavel Khodorkovsky: That is only true to a certain extent. Putin has a personal problem with my father. But he also has a lot on his plate currently. His regime is engaged in a combination of repression and new trials against opposition figures – the president and his men have a lot more to worry about than Khodorkovsky. They have to deal with the case of Alexei Navalny for example. In some ways I think it would be better for Putin to release my father than to have to deal with a new wave of criticism for a third, absurdly staged trial. They could release him even before the 2014 Sochi Winter Olympic Games start – this would be a good move to silence the criticism.
Profil: Given the emergence of new leaders of the opposition like Alexei Navalny – do you think your father will join the opposition after his release? The new protest movement is twenty years younger, they are not rich like your father, they are the Russian middle class. Will he feel needed there? Or could he play the role of Russia's moral conscience without taking a leading role in the protest movement?
Pavel Khodorkovsky: I would like him to leave Russia after his release. I see this as my mission: to persuade him to come to the West. Even if they release him, they can always re-arrest him and put him in front of another corrupt judge. Especially if he joins the opposition. But my father will decide this for himself of course.
Profil: In the ten years he spent in prison, you never went to visit him. Why?
Pavel Khodorkovsky: It is true, I never went back to Russia since he was arrested. It's not that I am not allowed to go. But again, how could I go to Russia and not appear at some rallies of the opposition? There is a high chance that I would get arrested. And then what? I don't want to put more pressure on my father. One of us in prison is enough. So I fight for his release from here.
Profil: In the first years we heard a lot about your father's prison conditions. How he was punished for drinking tea on the corridor and things like that. How is his situation now?
Pavel Khodorkovsky: My father does not really talk much about it. But there is a code that governs the institutions of prisons. There are many ways how life can be made easier or harder in a penal colony. For example: for a little extra money, inmates can get access to cell phones. Some people get better jobs for a small fee in the library. My father, however, never got any of these privileges. He has the pleasure of producing plastic binders. He has even seen them now in a catalogue of new office supplies!
Profil: Did he not get better treatment because he was not willing to pay these "extra fees" or did the government not allow him to get privileges to humiliate him further?
Pavel Khodorkovsky: There are 750 penal institutions in Russia. In many of them, the abuse of prisoners is the norm. The inmates are not paid anything or get very little for their work. The conditions in these penal camps are very diverse. One category of prisons are called the "black" penal colonies. Conditions can be quite good in them because they are run by criminals – sometimes guards, sometimes inmates, often corrupt local authorities are involved. Because they accept "favours", you can get even colour TV. The other prisons are the so-called "red" colonies. They are strictly controlled by the official administration. In some cases even by the Kremlin directly, when there is a "special guest". My father was always in a "red" prison camp. The Kremlin wanted to see my father treated according to the rules. He never got favours. Right up to the last days of his sentence.